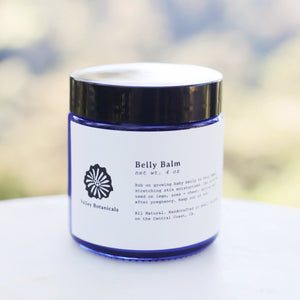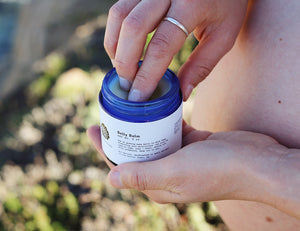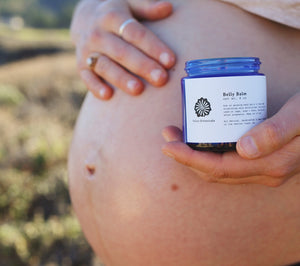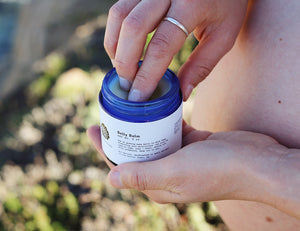 Belly Balm
Belly Balm

A nourishing + moisturizing balm for mama's growing belly. Made of organic cocoa butter, organic shea butter, kukui nut oil, vitmain e + beeswax. This blend of butters + oils helps keep the skin elastic and prevents stretch marks. No essential oils were added to keep this balm safe for babies during the early stages of pregnancy!

+Rub this rich balm over the belly (start using at the very beginning of pregnancy) two or three times daily to keep the skin supple + help eliminate stretch marks.

+Keep out of direct sunlight.

INGREDIENTS: Cocoa Butter*, Shea Butter*, Kukui Nut Oil, Vitamin E, Beeswax*

*Certified Organic

4 oz Jar

+ Cocoa Butter - One of the richest butters available. It contains Vitamin E, other antioxidants + it is packed with vitamins. Cocoa butter is able to penetrate the top layer (epidermis) and middle layer (dermis) of the skin. It not only keeps the skin moisturized but helps heal stretch marks by nourishing the skin with antioxidants + vitamins.

+ Shea Butter - This rich butter heals damaged or scarred skin, as well as dry + rough patches.

+ Kukui Nut Oil - A very moisturizing, lightweight and non-greasy oil from Kukui Nut Trees in Hawaii. It is very healing and moisturizing; packed with vitamins A, C + E, all of which are antioxidants that repair and nourish damaged skin. It's ability to absorb well into the skin makes it great for the belly.

+ Vitamin E - Supports new cell growth and boosts collagen production; a connective tissue that keeps skin elastic.

+ Beeswax - Forms a protective barrier that shields the skin from environmental assaults, while also holding in moisture and reducing dryness.
+++ This product has not been evaluated by the FDA. All ingredient information given is for educational use only. Not intended to diagnose, treat, cure, or prevent any disease. Please consult your doctor or health care provider for any possible contraindications and/or interactions with current medications. Always inform your healthcare provider(s) if you are taking/using any herbal remedies or supplements. Use this product at your own risk. +++