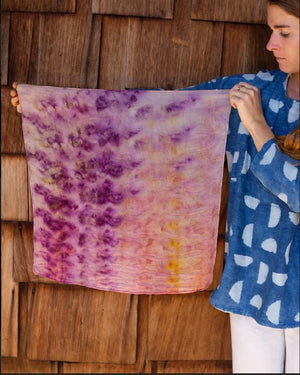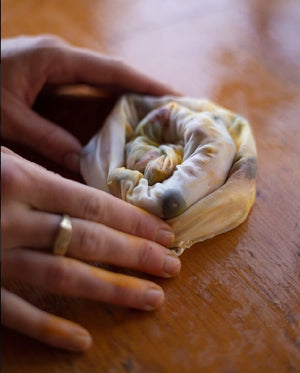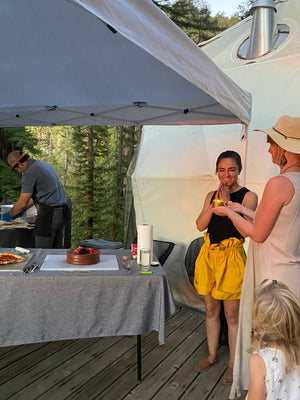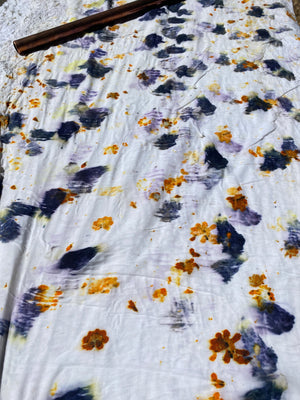 Bundle Dyeing Workshop
Join Emmaline Molloy of Valley Botanicals at Tancredi + Morgen in Carmel Valley for bundle dyeing. You will get to learn about this free-form technique using plant powders, fresh plants + food waste on a silk scarf/bandana, including rose petals, eucalyptus, marigold, onion skins, hibiscus flowers, turmeric, blueberries and more. We will discuss the basics of natural dyeing, including how to prepare your fabric with a mordant to ensure the colors hold over time. Each participant will leave the workshop with a unique botanical silk scarf/bandana and a detailed, instructional handout for future bundle dyeing projects at home! 
 No previous plant dye experience necessary! 
When:  Sunday, June 4th 
Time:  1:00-3:00pm
Where: Tancredi + Morgen, Carmel Valley CA
Cost: $70 includes one silk scarf/bandana
About Emmaline:
Emmaline Molloy is the creator + owner of Valley Botanicals, a plant-based skincare, candle + natural dye line based out of Big Sur, CA.  A self-taught herbalist, Emmaline started making wellness and skincare products when it became difficult to find ones which were chemical free. Immersing herself in herbal literature + workshops, she began growing medicinal plants and experimenting with her own remedies. Valley Botanicals was created in hopes of expanding Emmaline's passion for using natural skincare + medicine within the community. All products are handcrafted in small batches and do not contain any chemicals, parabens or preservatives.