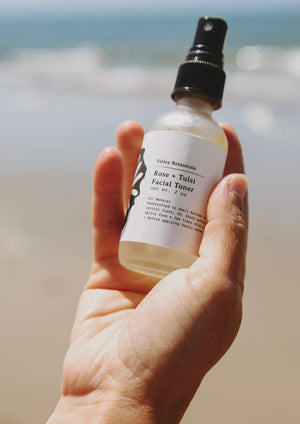 Rose + Tulsi Facial Toner
*NEW PRODUCT*  A calming + soothing blend made of rose + tulsi hydrosol, witch hazel hydrosol, aloe vera, jojoba oil, white willow bark extract, distilled water and rose geranium + ylang ylang essential oils. 

Suitable for dry + sensitive skin types. This is an alcohol-free toner! Will not dry out skin. 

Shake well. Mist face prior to using a face cream or facial serum, in replace of washing in the morning or throughout the day to refresh. 

Ingredients: Rose Hydrosol*, Tulsi Hydrosol*, Witch Hazel Hydrosol*, Jojoba oil*, Aloe Vera*, Distilled Water, Willow Bark Extract, Radish Root Filtrate, Essential oils of Rose Geranium + Ylang Ylang 
2 oz / *Certified Organic 

Rose Hydrosol - Is a Distillate (floral water) of the plant. Rose is highly beneficial for sensitive skin types because it can soothe irritation. Rose is also very moisturizing and is a natural toner; helps to minimize the appearance of pores and fine lines. 

Tulsi Hydrosol - Is a distillate (floral water) of the Ayurvedic herb Tulsi or Holy Basil. This plant offers anti-oxidant, purifying, awakening, and grounding benefits to the skin. This plant is beneficial for all skin types, and embodies a spicy and sweet, slightly clove-like fragrance; stimulating & awakening. 
Witch Hazel Hydrosol - Is a plant distillate of Witch Hazel (alcohol free). This plant is a natural astringent; reduces excess sebum from the skin + inflammation.
Aloe Vera - Is one of the most soothing + healing plants; great for recent scarring, sun spots and dryness. 
Jojoba Oil - A very similar oil to the skin's sebum or natural oil. It is packed with vitamins A, B + E, all of which are incredibly nourishing for the skin. It can be absorbed easily, is lightweight and does not clog or block the pores. Jojoba is antibacterial, making it beneficial for reducing acne and inflammation. 

White Willow Bark Extract - Contains tannins, which are rich in anti-oxidants and help to tone and reduce inflammation. 

Rose Geranium Essential Oil - Carries antibacterial, antiseptic, and anti-inflammatory properties; it heals blemishes and diminishes scars, tightens the skin and diminishes fine lines and wrinkles. 

Ylang Ylang Essential Oil - Stimulates cell growth to fight against aging and improves skin elasticity, smoothes fine lines + promotes cell regeneration.