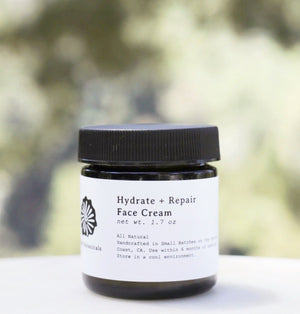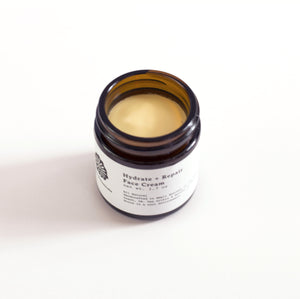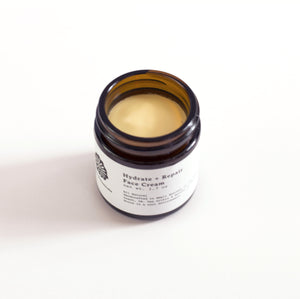 Hydrate + Repair Face Cream
An ideal daytime face cream for dry, damaged + aging skin; made of infused plant oils, raw butters + floral waters that will hydrate + repair the surface of the skin.

This cream is light + absorbs easily into the skin. Apply a small amount onto fingers and spread onto the surface of the face. Apply before makeup, allowing a couple minutes for the cream to fully absorb. 

Suitable for normal, dry + mature skin types. 

Ingredients: Sunflower oil* infused with Calendula*, Helichrysum* + Horsetail*, Macadamia Nut Oil*, Jojoba Oil*, Mango Butter*, Shea Butter*, Calendula Hydrosol*, Helichrysum Hydrosol*, Beeswax*, Rosehip Seed Oil*, Borage Seed Oil*, Rosemary Antioxidant Extract*, White Willow Bark, Essential oils of Carrot Seed*, Helichrysum*, Rose*, Ylang Ylang* 
1.7oz / *Certified Organic 
Helichrysum - Referred to as "The Everlasting Flower" because of its rejuvenating benefits for the skin and ability to improve complexion. It helps reduce the appearance of age spots, sun spots + recent scarring from blemishes. 

Horsetail - Has anti-septic, silica, anti-inflammatory and anti-oxidant properties which give it the ability to help cure acne and skin rashes. It is the most abundant source of silica among medicinal plants; a form of collagen that helps to rebuild and regenerate damaged skin cells. 

Calendula - Is a very powerful healing herb; it's anti-inflammatory properties bring soothing relief to dry, itchy, or inflamed skin. Calendula also promotes skin regeneration at wound sites and minimizes scarring. 

Borage Oil - Has one of the highest amounts of GLA (gamma-linoleic acid) of all seed oils; an omega-6 essential fatty acid that has anti-inflammatory and antioxidant properties. Not only does this help with treating eczema and acne, but it also restores moisture and smoothness to dry, damaged skin. 

Rosehip Seed Oil - Offers so many benefits for the skin. It is rich in vitamins + antioxidants (especially vitamin c, vitamin a, and linoleic acids), helps reduce the appearance of scars, treats fine lines + wrinkles, corrects UV damage from the sun, hydrates the skin and is great for eczema + acne. 

White Willow Bark - Contains salicylic acid; a gentle natural exfoliant added to most acne treatments because of its ability to clarify pores and shed dead skin cells. Also contains tannins, which are rich in anti-oxidants and help to tone and reduce inflammation.