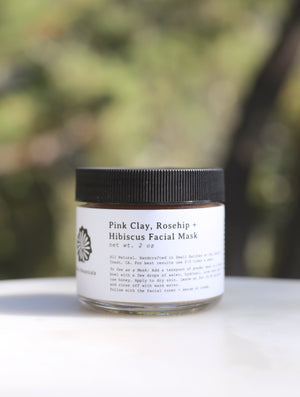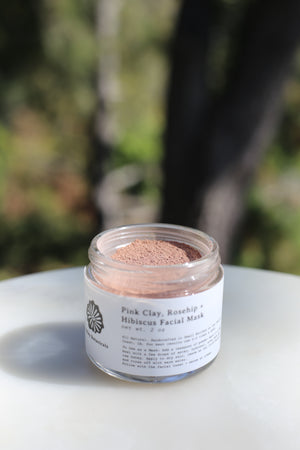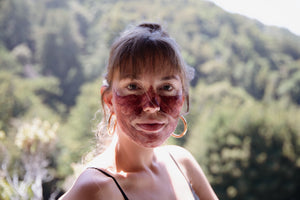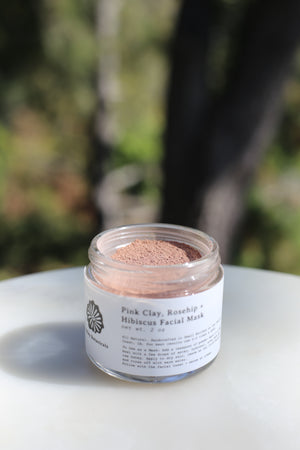 Pink Clay, Rosehip + Hibiscus Facial Mask
A soothing blend of gentle clays + nutrient-rich plants that moisturize and give the skin a beautiful glow. 
+ Suitable for sensitive skin, mature skin + acne prone skin
+ Gently exfoliates 
+ Removes impurities from pores
+ Brightens skin; reduces the appearance of sun damage 
+ Packed with Vitamin C + silica 
+ Consistent exfoliation can help reduce the appearance of fine lines, wrinkles + uneven skin tone 
+ To Use:
Add a teaspoon of powder mask in a small bowl with a few drops of water, hydrosol, aloe vera gel or raw honey. Apply to dry skin. Leave on for 15-20 minutes and rinse off with warm water. Follow with a toner + serum or cream. 
2 oz jar 
+ Key Ingredients + 
PINK CLAY: Best for dry, sensitive and acne-prone skin types. This clay gently cleanses + reduces inflammation. It contains Silica + Iron Oxide which help to regenerate skin tissue. 
ROSEHIP: Contains high levels of vitamin C, in addition to vitamins A, E + D, which all stimulate collagen production. Rosehips also contain antioxidants + essential fatty acids that reduce the appearance of dark spots, fine lines and scars. 
HIBISCUS: Contains natural alpha-hydroxy-acids (AHAs), which are known to help exfoliate, unclog pores, and firm the skin. Hibiscus contains antioxidants which help to minimize pore size + protect the skin from environmental stressors.
LICORICE ROOT: Great for sensitive skin; this plant helps diminish the appearance of discoloration + age spots. 
MARSHMALLOW: Known for its healing properties; packed with vitamins, antioxidants + anti-inflammatory properties. 
OATSTRAW: A very soothing plant that is rich in silica; helps with dry skin + sunburns. 
+Full Ingredients:
Pink Clay, White Kaolin Clay, Rosehip Powder*, Hibiscus Powder*, Marshmallow Root Powder*, Licorice Root Powder*, Oatstraw Powder*, Essential oils of Palmarosa* + Ylang Ylang*
*organic ingredient