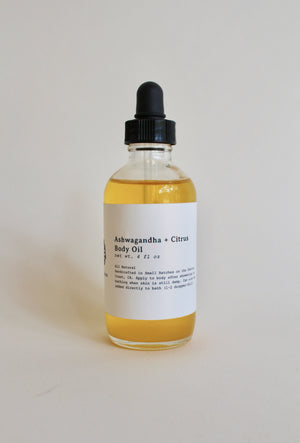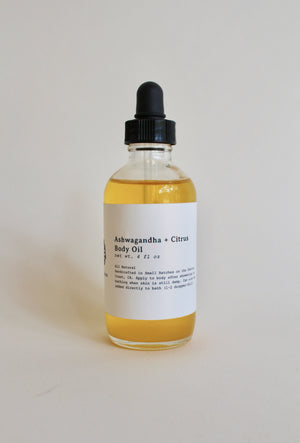 Ashwagandha + Citrus Body Oil
A light blend of natural oils that absorb easily and keep the skin moisturized. Made of sunflower oil infused with Ashwagandha root, Chia Seed Oil, Jojoba Oil, Evening Primrose Oil, and a blend of citrus essential oils (lime, grapefruit, bergamot + earthy cypress). 
Massage oil over the entire body following a shower or bath. Use daily for soft, nourished + moisturized skin.
Ingredients: Sunflower Oil* infused with Ashwagandha root*, Chia Seed Oil, Jojoba Oil, Evening Primrose Oil, Essential Oils of Lime, Bergamot, Grapefruit + Cypress.
4 oz / *Certified Organic  
Ashwagandha Root - This adaptogen + 
Ayurvedic
herb rejuvenates both the muscular + nervous systems. It is known to calm the skin and for keeping it from experiencing big shifts in stress levels (it's able to lower cortisol levels, which are linked to anxiety and stress).  
Chia Seed Oil - Rich in antioxidants and fatty acids, both of which are preventive and reduce wrinkles. This oil is great for all skin types, including those with acne-prone skin. It is lightweight and incredibly emollient on the skin. 

Jojoba Oil - Similar to the skin's sebum or natural oil. It is packed with vitamins A, B + E, all of which are incredibly nourishing for the skin. It can be absorbed easily, is lightweight and does not clog or block the pores.
Evening Primrose Oil - This Non-comedogenic oil is lightweight and benefits all skin types. It contains a high concentration of essential fatty acids, including linoleic acid, as well as flavonoids and antioxidants that can help protect the skin from external stressors.