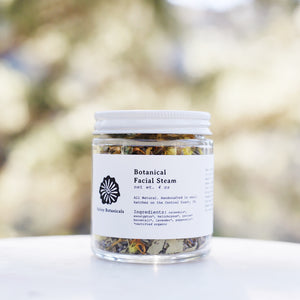 Botanical Facial Steam
A floral + herbal blend of healing and nourishing botanicals; beneficial for detoxing, cleansing and hydrating the pores. Eucalyptus, Peppermint + Lavender bring about a pleasant aromatic experience. Horsetail, Helichrysum, Calendula + Yarrow all help even the appearance of the skin and reduce inflammation + dryness. 

Add 2-3 tablespoons of the blend to a bowl of 3-4 cups of boiling water and let the herbs steep for a couple minutes. Drape a towel over your head and enclose your face over the steam. Inhale + exhale deeply while warm steam opens your pores + cleanses them. Allow the steam to cleanse + detox your pores for about 10 minutes.
Can also be used to help with congestion from seasonal allergies. 
Ingredients: Calendula*, Eucalyptus*, Helichrysum*, Yarrow*, Horsetail*, Lavender*, Peppermint* 

4oz / *Certified Organic