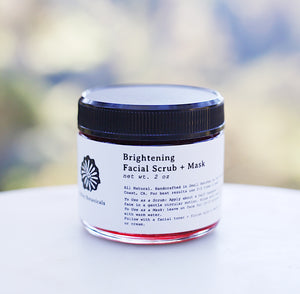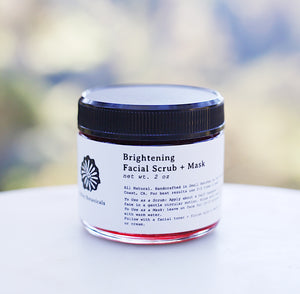 Brightening Facial Scrub + Mask
This scrub + mask duo removes impurities from the pores without stripping the natural moisture from the skin. Cranberry powder is packed with antioxidants, oats and honey are calming + soothing, and French green clay detoxifies + brightens. 
To Use As A Scrub: Apply about a half teaspoon to a damp face in a gentle circular motion. Rinse with water + pat dry. 
To Use As A Mask: Leave on face for 10-15 minutes. Rinse with water + pat dry. 
For best results use 2-3 times a week, follow with a Facial Toner. 
Suitable for all skin types 
Ingredients: Big Sur Honey, Cane Sugar*, Colloidal Oats*, French Green Clay, Aloe Vera Gel*, Cranberry Powder*, Hibiscus Powder*, Turmeric Powder*, Kukui Nut Oil, Sweet Almond Oil*, Willow Bark Extract, Essential Oils of Peppermint* + Grapefruit*
2 oz / *Certified Organic