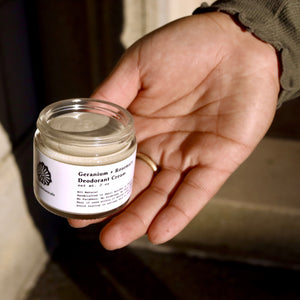 Geranium + Rosemary Deodorant Cream
An all-natural Deodorant that only contains ingredients that are safe to be absorbed into your skin (and eventually into your body). Say goodbye to aluminum, parabens + other harmful chemicals that should never be applied under your precious armpits. Not only is this Deodorant safe to use, it lasts throughout the day. You will not stop sweating completing using this Deodorant but you will not smell (it is necessary and healthy for the body to sweat). 
Use your finger to put a dime-size amount in each of your armpits. It is important that you use your finger because it warms up the Deodorant so that you can apply it easier. 
Use within 12 months of opening. 

Ingredients: Coconut Oil*, Shea Butter*, Arrowroot Powder*, Baking Soda (aluminum free), Bentonite Clay, Beeswax*, Aloe Vera*, Vitamin e, Geranium Essential Oil*, Rosemary Essential Oil*, Clove Essential Oil*
2 oz / *Certified Organic