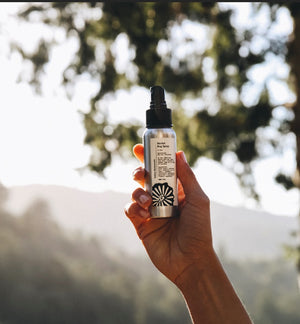 Herbal Bug Spray
An organic, natural herbal bug spray for all of your adventures + hangs in the outdoors. Made with only plant-based ingredients (no deet) that keep bugs and ticks away! Gentle enough for children to use as well. 

2.7oz bottle with spray cap 

To Use: Shake well before each use. Mist over skin + clothing as needed. Keep out of reach of children. 
ingredients: witch hazel*, sunflower oil*, essential oils of cedar*, lavender*,  citronella*, lemongrass*, geranium*, + eucalyptus* (*organic ingredient)