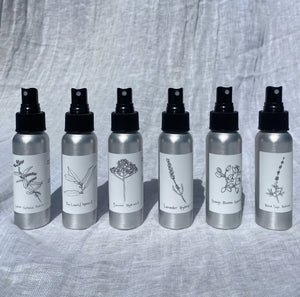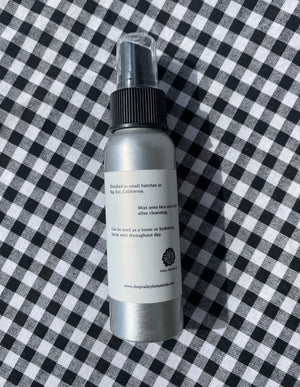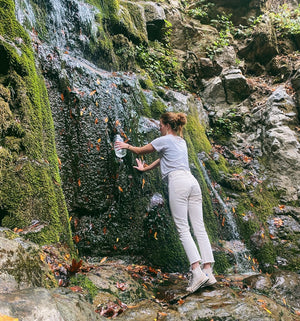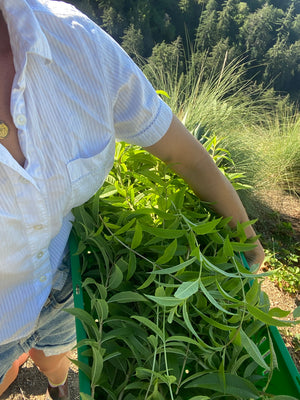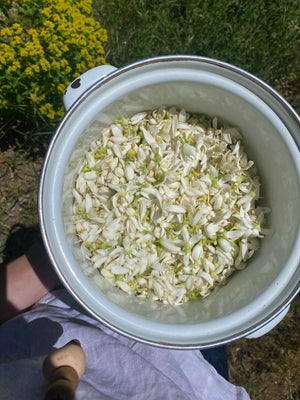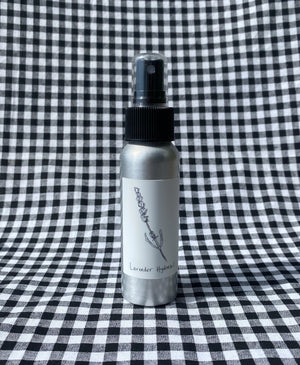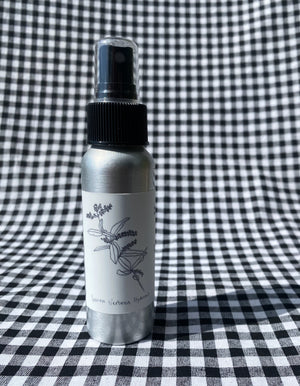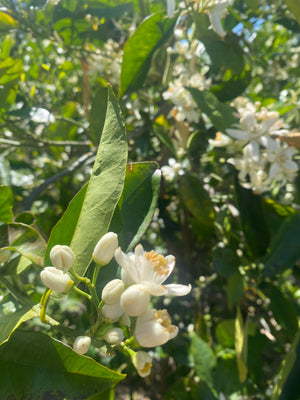 Hydrosol Spray
Hydrosols, also known as "flower waters," are made by distilling fresh leaves, fruits, flowers, and other plant materials. These aromatic waters are similar to essential oils in that they carry beneficial skin properties but are much less concentrated. Hydrosols can be used in place of a toner after cleansing in your skincare routine. They are able to soothe, calm and heal the skin, while also being able to bring the skin's pH level back into balance. 
2.5oz Aluminum spray bottle. Please reuse or recycle bottle after using :)
All plants were distilled in small batches in a copper alembic still in Big Sur, CA
BAY LAUREL Hydrosol can be used topically on the skin, and also energetically.  Used topically, it may help ease joint inflammation, muscle pain, or reduce the presence of acne. Bay Laurel is an anti-inflammatory plant, which may help to provide relief from eczema, psoriasis, rashes, etc. Can be used as a facial toner, particularly for acne-prone skin. Energetically, Bay Laurel acts as a protective shield, warding off negativity or environmental stressors. This hydrosol can also be used to mist yourself when feeling stressed or anxious for emotional comfort. 
BLACK SAGE Hydrosol comes from the native California plant Salvia Mellifera and grows along the central coast. It has an earthy, sage smell that is very strong and uplifting to the senses. Use this hydrosol to mist spaces to clear away negative space, mist around pillow for restful sleep and vivid dreams. Can also be used to mist the face, body, linens, etc. 

LAVENDER Hydrosol (Lavendula Angustifolia) is such a healing, soothing and calming plant water. This sweet, floral hydrosol is known for its antiseptic, antibacterial and anti-inflammatory properties, and is safe for children and pets to use. This hydrosol has so many beneficial uses; as a facial toner to cleanse pores and help heal acne/eczema/rashes, an after-sun relief spray or burn-relief spray, as an energetic mist for feeling more balanced. 

LEMON VERBENA Hydrosol (Aloysia citriodora) is great for minimizing stress and anxiety! If you have something that is making you feel nervous or anxious about, lemon verbena helps to boost self-esteem and confidence. It works on the autonomic nervous system and helps to regulate the adrenal glands with its sedative properties. It has strong anti-inflammatory properties and functions like an expectorant and helps to clear the mucus membranes of the nose and mouth. Because its pH of 5.2 – 5.5 is close to the acid mantle of the skin, it's a great clarifier for normal and combo skin. Energetically, lemon verbena is highly energetic and much of the plant's life force remains in the water-soluble components like a hologram, when combined with vibrational healing techniques like reiki or sound healing, the effects can be extraordinary! 
ORANGE BLOSSOM (Neroli) Hydrosol soothes and calms the skin. It has anti-inflammatory and antiseptic properties that help soothe and calm irritated skin. It is particularly beneficial for those with sensitive or reactive skin, as it can help reduce redness and inflammation. Neroli hydrosol is a natural humectant, which means it helps the skin retain moisture. It is also rich in antioxidants that protect the skin from environmental stressors and free radicals that can cause premature aging. 
YARROW (Achillea Millefolium) Yarrow hydrosol is healing and cleansing. It has a green, fresh and sweet aroma, resonating with all things earthy. It is very soothing and calming, and is able to relax the mind and relieve mental pressure. The Native Americans used Yarrow to lower a high fever, treat flue and infections. It is filled with antibacterial and anti-microbial compounds, that can keep your skin clear and acne free. And along with that, it also has Astringent properties, that prevents sagging of skin. 
Because Hydrosols are the floral water of a plant, it's best to use them with any of our 3 facial serums (Clarify, Nourish, Rejuvenate) for best absorption. Then apply a moisturizer on top to seal it in. Hydrosols can be sprayed throughout the day on the face, to uplift your mood, to freshen a room, etc. You can also mix them with a clay face mask instead of water to receive so many more plant benefits for the skin!