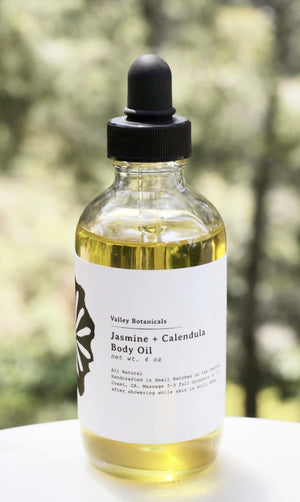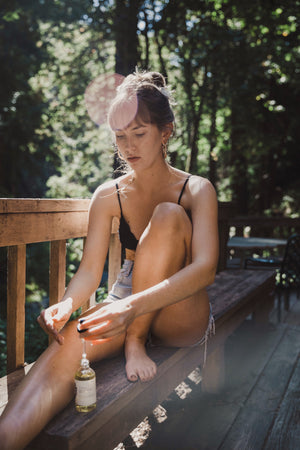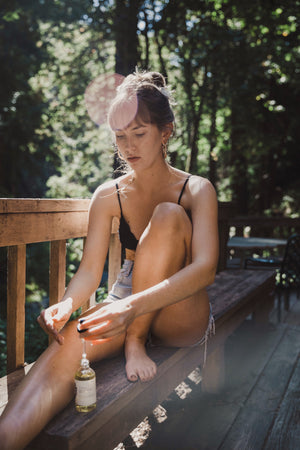 Jasmine + Calendula Body Oil
A light blend of natural oils that absorb easily and keep the skin moisturized. Made of sunflower oil infused with calendula, grapeseed oil, kukui nut oil, jojoba oil and jasmine essential oil. Calendula is known for its healing + moisturizing properties while jasmine works to increase the skin's elasticity and help balance moisture in the skin to reduce dryness.
Massage oil over the entire body following a shower or bath. Use daily for soft, nourished + moisturized skin.
Ingredients: Sunflower Oil* infused with Calendula*, Kukui Nut Oil, Grapeseed Oil*, Jojoba Oil*, Jasmine Essential Oil
4 oz / *Certified Organic  
Calendula - A very powerful healing herb; its anti-inflammatory properties bring soothing relief to dry, itchy, or inflamed skin. Calendula also promotes skin regeneration at wound sites and minimizes scarring.
Jasmine - Known for its sweet, romantic floral fragrance, jasmine oil has skin healing properties that help fade away stretch marks + tighten the skin. It also works to help balance moisture in the skin to reduce dryness.

Jojoba Oil - Similar to the skin's sebum or natural oil. It is packed with vitamins A, B + E, all of which are incredibly nourishing for the skin. It can be absorbed easily, is lightweight and does not clog or block the pores.

Grapeseed Oil - Very moisturizing and is easily absorbed into the skin, this oil is packed with antioxidants (vitamins C, D + E) which help to protect the skin and tighten it. Vitamin C helps brighten and tone the skin.