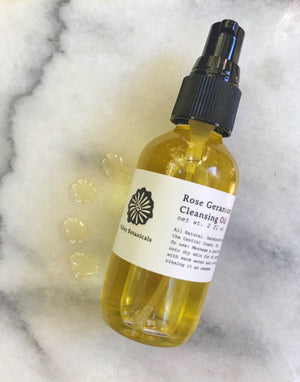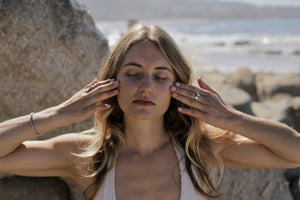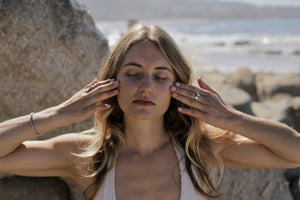 Rose Geranium Cleansing Oil
The most natural way to cleanse your face that won't leave your skin feeling dry! Rose Geranium Cleansing Oil is a blend of lightweight, nourishing + soothing oils including Hazelnut, Jojoba, Sunflower + Castor. Lightly scented with soft floral essential oils of Rose Geranium + Lavender. Can also be used to removed stubborn makeup! 
Many face washes contain harsh ingredients that strip your skin's natural sebum and leave your face feeling dry or tight. Your skin then has to create even more oil because it is being stripped away. This can cause breakouts or cause dryness and/or irritations. Cleansing oils contain no harsh ingredients + can improve the skin (even oily skin can benefit from cleansing oils)!
+ Pump a quarter-size amount of oil into fingertips and massages onto face. Drape a warm, damp washcloth over face + gently wipe away oil with washcloth, pat dry. Follow with a toner and/or facial serum or cream. 
+ Suitable for all skin types
+ No harsh ingredients
+ 2oz 
++ INGREDIENTS: Hazelnut oil*, Jojoba Oil*, Sunflower Oil*, Castor Oil*, essential oils of Rose Geranium + Lavender* 
*organic ingredient
+ Hazelnut Oil contains a high amount of of catechins + tannins (healthy flavonoids) which make this oil a "dry" oil that feels smooth and toning on the skin. It is an astringent and antibacterial oil, which helps to clear acne and minimize pore size. 
+ Jojoba Oil is very similar to the skin's sebum or natural oil. It is packed with vitamins A, B + E, all of which are incredibly nourishing for the skin. It can be absorbed easily, is lightweight and does not clog or block the pores. Jojoba is antibacterial, making it beneficial for reducing acne and inflammation. 
+ Sunflower Oil is a lightweight and non-greasy oil that is very calming and moisturizing for the skin. It is packed with nutrients (vitamins A, C + D) and antioxidants, making it beneficial for aging skin, acne, eczema and general redness. This oil is absorbed easily into the skin and does not clog or block the pores!
+ Rose Geranium essential oil has natural astringent properties. This helps with tightening the skin and therefore resulting in reducing large pores, regulating sebum as well as toning and firming aging skin. 
+ Lavender essential oil has so many profound benefits for problematic skin! it is packed with antimicrobial, antioxidant + astringent properties which help to remove pore impurities and rejuvenate the skin. Lavender also has the ability to decrease stress, which often correlates with stress-related acne or skin irritations.