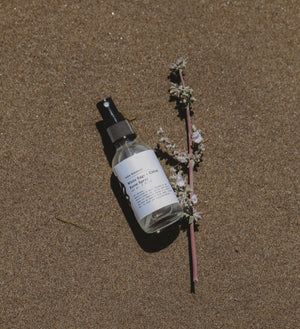 White Sage + Citrus Room Spray
 Cleanse away negative energy + infuse your space with our grounding and protecting White Sage + Citrus Room Spray. If you ever feel depleted after surrounding yourself with others' energies, using this spray can help clear away negative energy and help you feel more grounded. 
Ingredients: White Sage Hydrosol*, Cedarwood Essential Oil, Orange Essential Oil,
Bergamot Essential Oil, Black Tourmaline 

*organic ingredient 
2 fl oz 
How to Use: Mist a room or yourself when feeling heavy negative energy or to protect yourself from others' energies. Shake gently before misting.